Last Updated on 2023-06-04 by a-indie
Sobs, Singapore's indie pop stars are coming back to Japan!
We asked them about their latest album "Air Guitar", their experiences during the US tour including live on SXSW, and how they feel about touring Japan from June 2nd.
Starting with an Internet-based project, how do they establish their current styles?
Sobs interview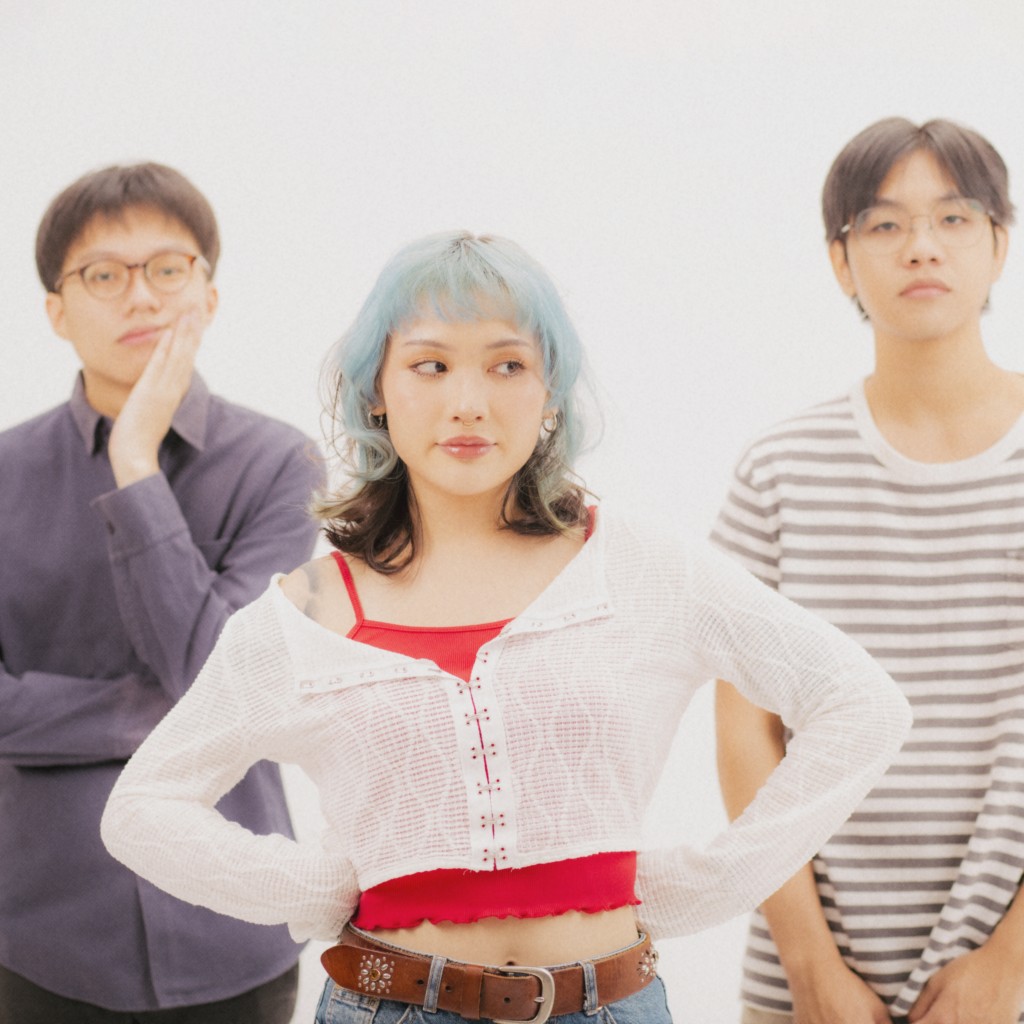 Artist:Sobs Interviewer and interpreter:Lisa Tominaga
About Singapore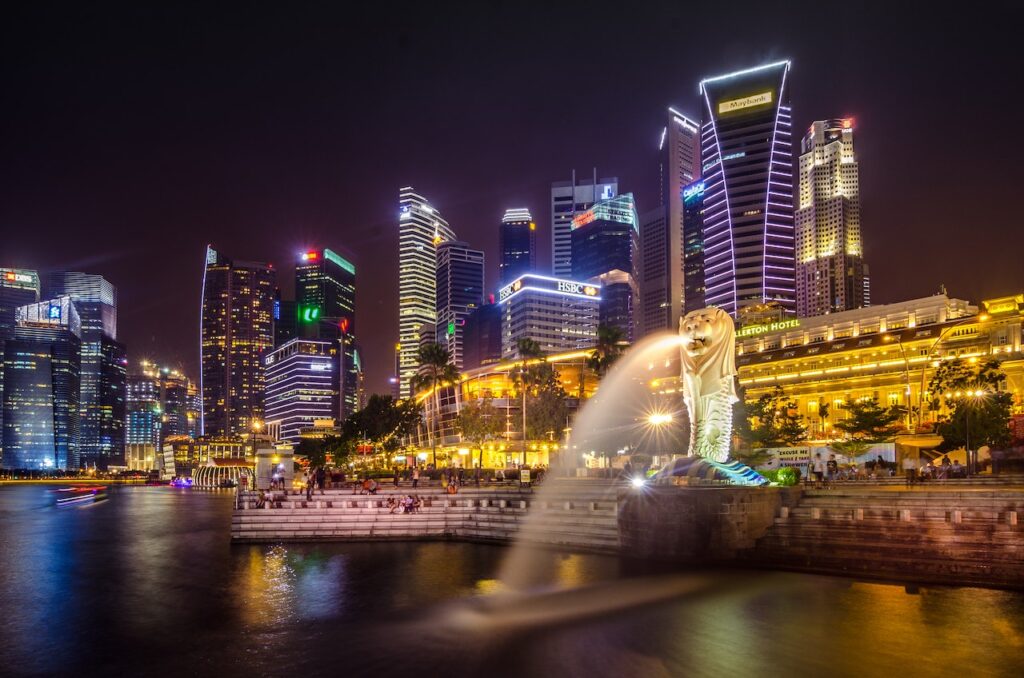 -I know that you are from Singapore, which is an island nation just like Japan. Could you tell us more about what Singapore is like?
Singapore is a very small country – it takes a little more than an hour to cross from one side of the island to the other. Sometimes people call Singapore a "garden city", because there are lots of greenery across the island, even though it's built up with tall buildings everywhere. It is summer all year round, and very humid, so it sometimes feels too hot to go out. With how tiny the island is, we often see the same sights and sounds every day… so it can get boring sometimes.
Just like most metropolitan cities, Singapore is a very cosmopolitan and international country, with people coming from all around the world to work and live here – different races, languages, cultures living in harmony. This is very important to Singapore and its national identity, and we are thankful to be able to learn and be friends with people from many different backgrounds.
Art and creative expression is often swept to the sideline in favour of money and work. But just like how seeds can sprout in dry land, beautiful art has grown in small pockets of creative communities in Singapore. Hopefully, Singapore can one day grow into a garden of art and creative culture like the "garden city" it calls itself.
Because Singapore is a small island nation surrounded by sea – there is no opportunity for domestic touring, and we have a very small market for music and art. These material realities mean that artists have to look outside of Singapore and into the world to grow their craft.
The music scene in Singapore
-I would like to ask you about the music scene in Singapore. What kind of music is currently being listened to in Singapore?
The music scene in Singapore is small, because of our tiny population and audience size. It's so small that there aren't enough venues and rehearsal studios for artists and bands here, and it is a huge struggle for existing ones to stay in business because of the limited market size.
There is however still a consistently strong and dedicated music scene across genres, regardless of size.
Over the past few years, the genre of [Midwest] Emo has been a strong force in the indie music scene. This wave is led by the band "Forests", who will also be touring in Japan the weekend after our tour.
The hip-hop, electronic and experimental music scene is also on an upward trajectory – with labels and collectives both on the corporate and indie sides of the coin growing an audience at home and internationally. Some examples of this would be labels like Darker Than Wax, KITCHEN. LABEL., Syndicate, and Def Jam Recordings. The clubs play a lot of house and techno these days.
Beyond that, post-rock, metal and hardcore continue to be a mainstay in Singapore's underground scene. One of the best metal bands in the game right now – Wormrot – is from Singapore, and they are absolutely killing it internationally.
Outside of indie/underground circles, most Singaporeans listen to mainstream pop music they find on TikTok or Spotify or YouTube, from the West and/or China and Taiwan and Korea.
The position of indie pop/rock in Singapore
-What is the position of indie pop/rock like you in Singapore?
Singapore has always been home to many indiepop / indie rock acts that we owe a lot to. Jared and Raphael grew up watching indie pop bands like Pleasantry, Obedient Wives Club, and Lost Weekend (who our session drummer used to play in), and these bands that showed us that we could make and play music we love too.
Across history, Singapore's indie scene have also always had indiepop / indie rock acts that lead the scene – bands like The Oddfellows, Lizards' Convention, Electrico, Serenaide gained significant reputation at home and beyond drawing from the same palette of 80s/90s guitar pop.
Today, indiepop / indie rock is still a constant fixture in the scene – from bands like Subsonic Eye [that Jared also plays guitar in], to newer names like motifs – the genre continues to capture and grow new audiences.
How Sobs was formed
-I understand that Sobs started in 2017. How did the three members, Celine, Raphael, and Jared meet and get to form the band?
We are a band that owes its existence to the Internet.
Celine and Jared met on a Singapore-based music forum called "soft.com.sg", where people can discuss music, buy and sell equipment, or look for band members or collaborators. Celine put up a post looking for a producer/bandmate to work on a now-defunct electronic pop project called "Cole slaw", and Jared took up the challenge. This partnership eventually gave birth to the song 'Girl'.
Jared and Raphael met while trying to camp out at a CHVRCHES concert, and continued to keep in touch on Twitter for years after. A few years later, Raphael started to run an indie pop label called "Middle Class Cigars", and Jared shared along the demo of 'Girl'. Because they shared a love for the same music, Raphael wanted to help out in any way possible, and joined Celine and Jared to form "Sobs" as a guitarist.
The meaning of Sobs
-What is the meaning of the band's name, "Sobs"?
There is no specific meaning to the band's name. It is just something that people type on the Internet when they are sad or feeling down about something. For example, like if someone's favourite idol or band cancels their show, they would tweet or type "sobs". Perhaps this is another thing that we owe to the Internet as well…
Sometimes people liken our name to the American band "Crying". We really love the band Crying, but the band name was not inspired by it! Regardless, Crying is one of our favourite bands of all time.
Air Guitar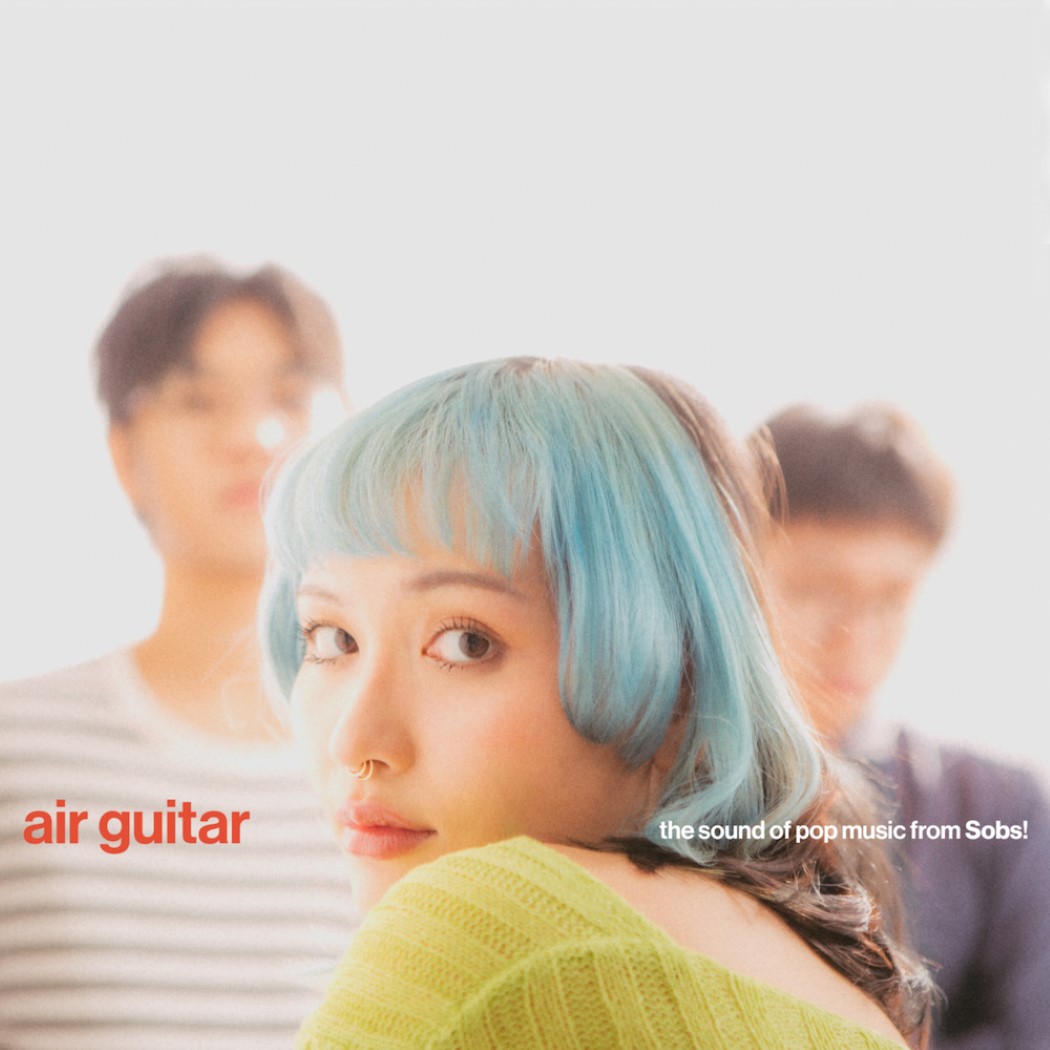 -You released your 2nd album, "Air Guitar" last year. I listened to the whole album, all songs have full of positive vibes and I simply love it. What changes do you have compared to the time you released 1st album?
We have grown so much as musicians, songwriters, and producers since the 1st album!
Songwriting and lyrics took a much more focused and immediate approach, with greater clarity on what we want to say and the story we want to tell. It feels like we finally understand the difference between a good and bad line, and this comes through in a much more confident and self-assured lyricism. It was also a constant process of putting in the effort to make a line just right, and we allowed ourselves the space and time to be able to see the songs in perspective.
The production of the album echoed this sentiment – we valued a really precise and detailed process. Previously, where we would have drowned out guitars and vocals in reverb and effects, we now pushed for clearer, cleaner production and sonics. We were also a lot more aware of proper production and recording techniques this time around, and this gave us the ability to record and produce a more "hi-fi" sound that serves the music and songwriting.
Our influences were also different – drawing on an 80s/90s/00s indie rock / pop palette rather than the dream pop / bedroom pop from our past releases.
MV for Air Guitar
-In the music video for the song "Air Guitar", it is impressive that Celine scatters contract documents. Do you have any meaning behind this music video?
The music video was inspired by, and a tribute to the films of Brian De Palma [Phantom of The Paradise, Snake Eyes, Passion], French new-wave by way of Godard, satire on advertising from Yasuzo Masumura's 1958 film "Giants & Toys", and the brilliant work of Mitsuo Shindo and Konishi Yasuharu with Pizzicato Five and Readymade [Karia Nomoto's Readymade Screen Tests].
The director of the video, Edward Khoo, had this to say about the music video —
"Is she selling the TV and camera; or is she looking into herself? Is she selling the raincoat as a product; or is she simply styled for a photoshoot? Through whose lens are we watching her, and what forces, and whose gaze are we running away from?"
——
We shot that scene against the backdrop of an architectural icon in Singapore that is slated for demolition called Golden Mile Complex. It was really fun to shoot, with the director and director of photography sitting in the trunk of a car driving on a rooftop as we chased the car.
The musical influences for "Air Guitar"
-In your 2nd album, one of my favorites is "Friday Night", fading out with Drum and Base. Please tell us about the music that has influenced this album. And tell us about the specific artists and albums that inspired you.
We really struggled to come up with a way to end Friday Night – that we were almost going to remove the song from the album because we couldn't figure out how to make the song work.
So we threw whatever we could at it – maybe a "Pavement" style outro, or a noisy big half-time breakdown… but we weren't convinced.
Out of desperation, we took it towards a totally different route and landed on trying an electronic drum & bass breakdown. Perhaps around the time we were talking about/listening to sounds from Darla Records (00s/10s electronica-indie crossover – Dntel, The Postal Service, Sweet Trip etc), SEGA video game soundtracks, Cymbals' "sine" album, and perhaps also informed by the work on Celine's solo electronic/hyperpop project "Cayenne" and Jared's solo experiemental/electronic project "jorud".
Some other influences that span the entire album are Weezer, Liz Phair, bubble-grunge like Charly Bliss, Avril Lavigne, 00s pop rock by way of Disney Channel [ie Demi Lovato].
Other
The experience of touring North America
-How was touring North America including SXSW showcases and a live on KEXP?
We had the chance to meet fans and friends of many different backgrounds – all of them extremely supportive, and made many new like-minded friends. At the end of the day, everyone came together and created treasured memories from the love of music.
Performing 15 shows in a month forced us to hone our live performance – we have played some of our best, tightest shows on the tour once we got into the groove of it towards the end of the tour.
KEXP was amazing! We had the chance to meet the legendary KEXP host Cheryl Waters, but also was blown away by how good the studio sounded acoustically. It was truly an honour to have had the chance to be on KEXP – so many of our favourite bands shared that stage before us.
We even bumped into DYGL, who we're performing with in Tokyo, at SXSW! They came to watch a show that we played in a backyard, and we caught them at another showcase later in the week too.
The collaboration with Natsuko Nisshoku
-I was amazed that Celine sang the chorus in Japanese"ダム底の春 feat. Sobs".How was collaborating with Natsuko Nisshoku (日食なつこ)? How did make it happen?
Her management reached out to us about it via email – we have no idea how she/her team even found out about us!
But we found out that she had also collaborated with another Singaporean artist and good friend of ours, Kin Leonn, on a track off her previous album. Such a small world!
It was really fun working on the arrangement / production of the Natsuko's track – some of the most fun we had working on a commissioned project. The track started off with just Natsuko's vocals and piano, and we fleshed out the track by arranging guitars, synths, drums, bass and backing vocals to serve and accompany the already-great song that Natsuko wrote. We are so honoured to have been invited to work on this.
For Celine to sing the chorus in Japanese, we had to ask her to send over romanised version of the lyrics – thankfully she helped us out with that and we hope it all worked out… fingers crossed her Japanese pronunciation was ok!
The excitement for re-visiting Japan
-Could you tell us about your enthusiasm for re-visiting Japan in June which visits not only Tokyo but also various areas?
The last time we came in 2019 was one of the best experiences we had as a band, and we were so sad that we couldn't visit you again because of COVID. We're so happy to finally be able to see everyone again, and also share our new album with you – it's one of our first tour dates in Asia since we released "Air Guitar", s0 these 4 shows in Japan are very special to us.
This is also going to be the first time we are visiting Nagoya, and we can't wait to check it out – especially alongside wonderful bands like Emptei, Belinda May and Pale Beach!
The things to do in Japan
-Is there something you're looking forward to doing while you're staying in Japan?
Eating lots of food! Reuniting with the friends we made the last time we were in Japan, and making new friendships and memories. Watching the wonderful support acts on each day's lineups… and buying their merch and records.
The message to listeners in Japan
-Could you give a message to listeners in Japan?
We are so excited to come to Japan! We miss everyone so much, and can't wait to see you and all the awesome bands that will be supporting our shows in Osaka, Nagoya and Tokyo.
【Advertisement】

Sobs released Works
Sobs has released 2 albums("Telltale Signs"、"Air Guitar").
2nd album"Air Guitar"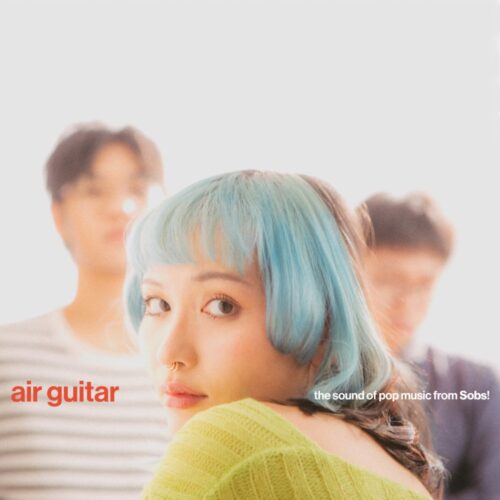 Release Date: OCT 21 2022
Tracks:
1. Air Guitar
2. Dealbreaker
3. Lucked Out
4. Friday Night
5. Last Resort
6. Burn Book
7. World Implode
8. LOML
9. Cool (Gwen Stefani cover)*Bonus Track
10. Anything But Ordinary (Avril Lavigne cover) *Bonus Track
Amazon
1st album"Telltale Signs"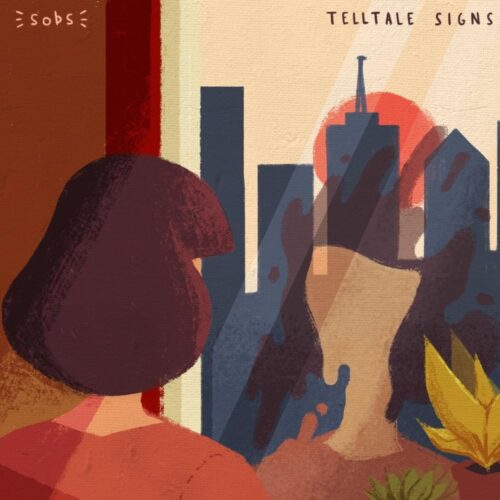 Release Date: JUN 22 2018
Amazon
Sobs Live Information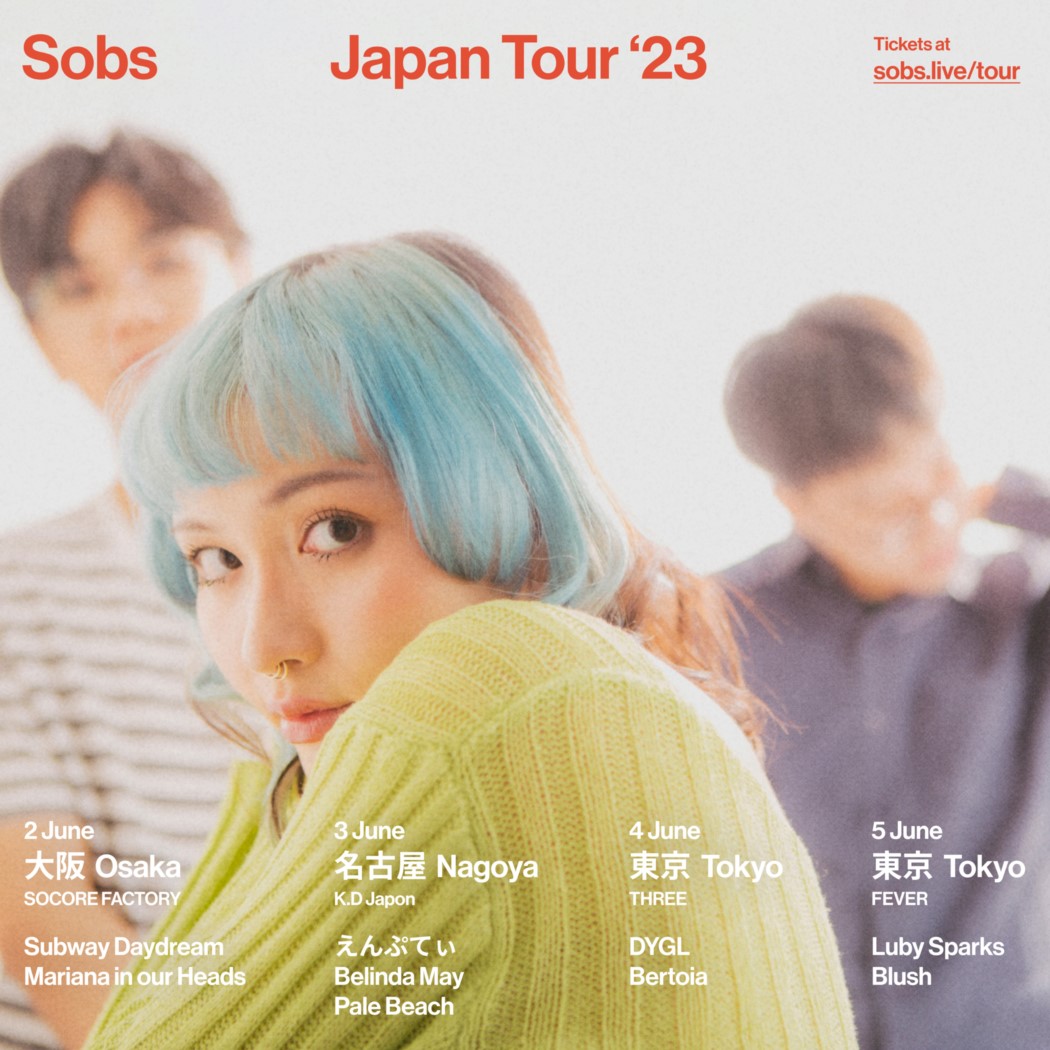 June 2nd, 2023 (Friday)

Osaka SOCORE FACTORY
Open/Start: 18:30 / 19:00
performing with Subway Daydream, Mariana in our Heads

June 3rd, 2023 (Saturday)

Nagoya K.D Japon
Open/Start: 17:00 / 17:30
performing with えんぷてぃ, Belinda May, Pale Beach

June 4th, 2023 (Sunday)

Tokyo THREE
Open/Start: 18:30 / 19:00
performing with DYGL, Bertoia

June 5th, 2023 (Monday)

Tokyo FEVER
Open/Start: 18:30 / 19:00
performing with Luby Sparks, Blush
Tickets on general sale from April 8th, 2023.
E-plus : https://eplus.jp/
Livepocket : https://t.livepocket.jp/
SOCORE FACTORY : https://socorefactory.com/
K.D Japon : https://kdjapon.jimdofree.com/
Sobs profile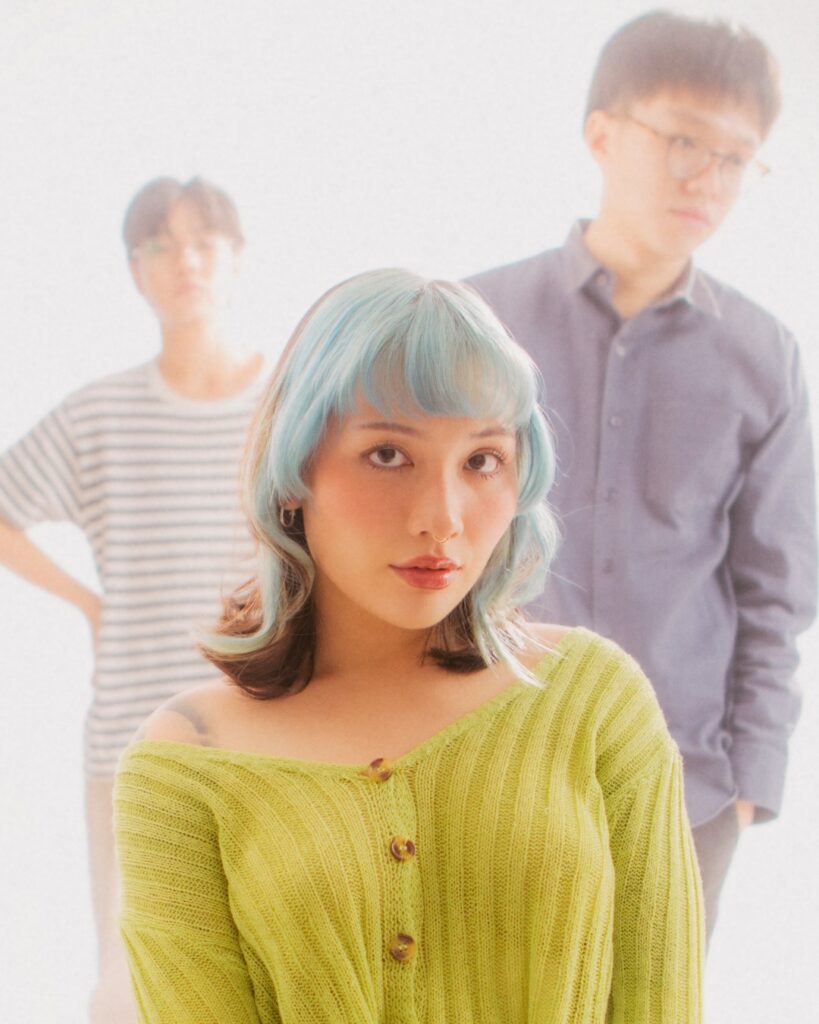 "A three-piece indie pop band from Singapore that is one of the most anticipated in Asia. They debuted in 2017 with the EP "Catflap". With Celine Autumn's charming vocals and outstanding melodies influenced by 90s indie pop, they received high praise not only in Asia but also in America. In 2018, they released their 1st full album "Telltale Signs". The Japanese edition was released with Lirico, and they performed their first Japan tour in 2019. They are scheduled to release their long-awaited 2nd album "Air Guitar" in the fall of 2022. Celine Autumn also works as a hyper pop project Cayenne. Guitarist Jared Lim is also a member of Subsonic Eye."
Sobs representative song(Youtube)
Sobs – Telltale Signs (Official Video)

Sobs – Astronomy (Official Video)

Sobs – Girl (Official Video)
Sobs Related Articles
Related articles on Sobs have been discussed so far in BELONG.
【Advertisement】