Last Updated on 2023-07-09 by a-indie
The Chairs are a soft rock band from Taipei, Taiwan, who have been making music together since high school.
They are releasing their vinyl LP "Hey Aries" in Japan, which features ten songs that range from psychedelic rock to dream pop.
The Chairs have a unique sound that blends Taiwanese, English, and Japanese lyrics with mellow and catchy melodies.
We interviewed them to learn more about their background, their songwriting process, and their expectations for their first Japan tour.
The Chairs Interview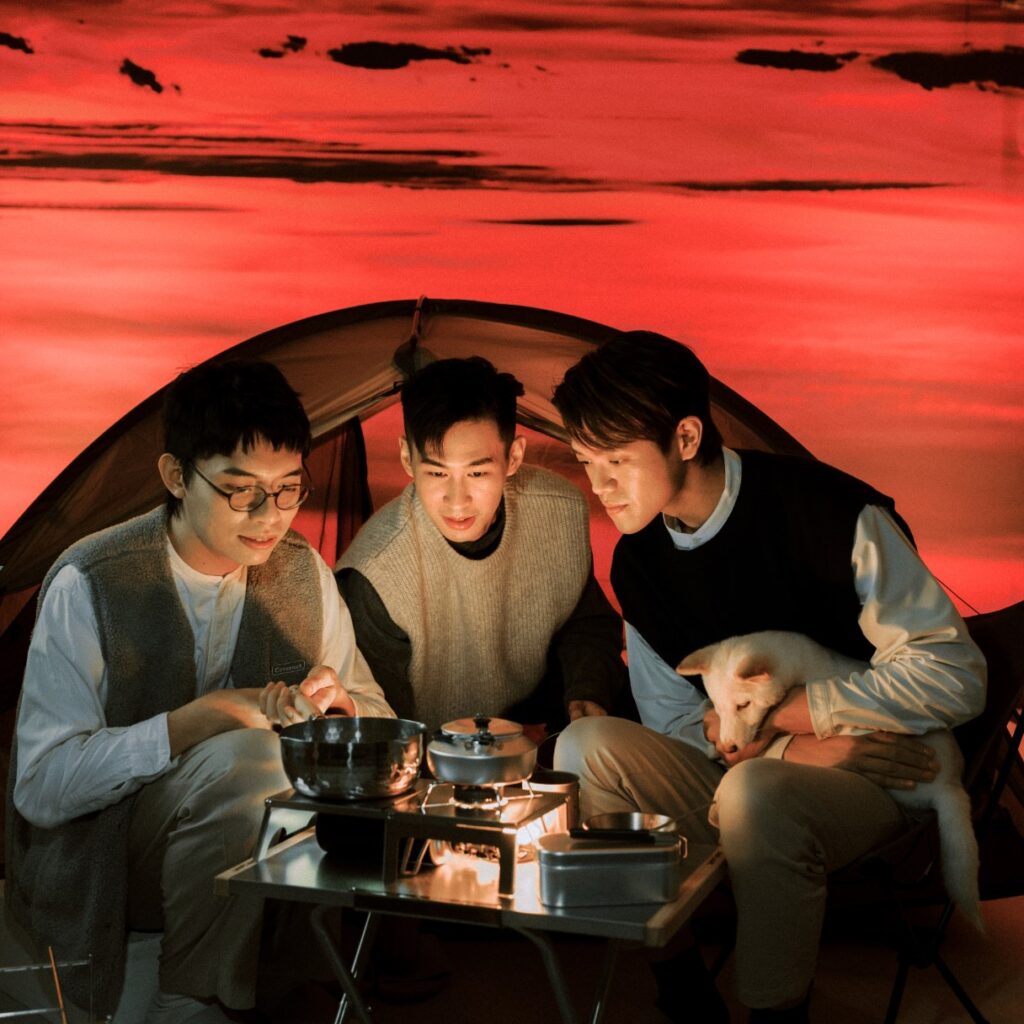 Artist:Jing(詠靖), Zhong(仲穎), Benson(班森) Interviewer,Translations:Lisa Tominaga
Taipei, a city of nostalgia and diversity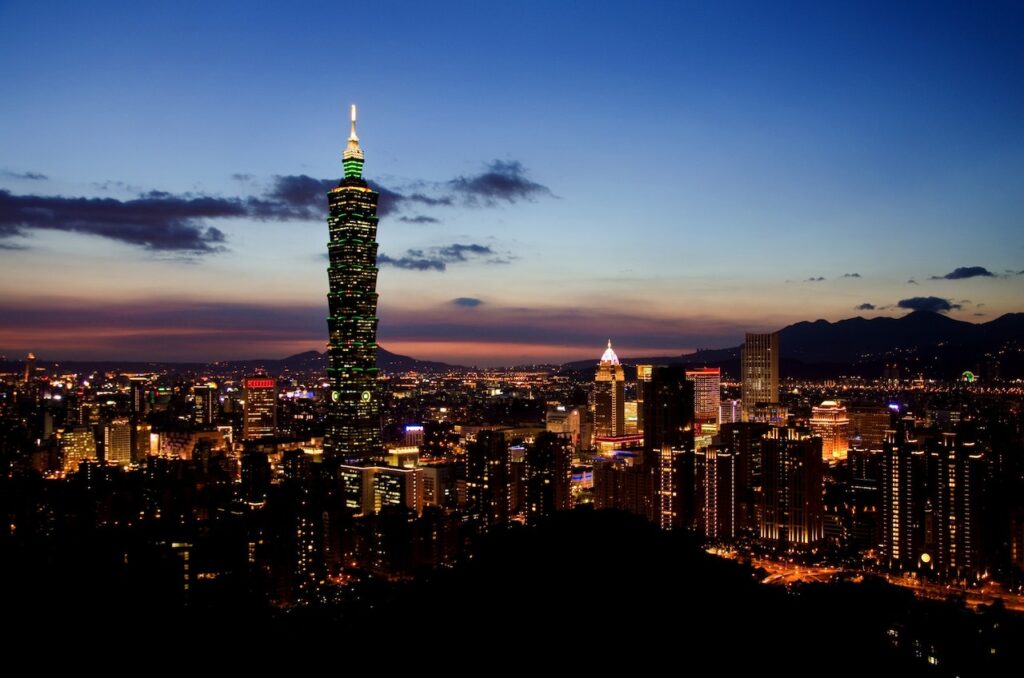 -I know that you are from Taipei. When I visited Taipei, particularly in 北投, I felt nostalgic like your music. Could you tell us what Taipei is like from your perspective?
Jing: I think Taipei is like a mixture of everything, you can almost see buildings from different times in history, whether traditional religious sites, residential areas or modern business centers, standing close side by side. You'll be able to find a couple of different cultures and communities just in one block. In spite of its high density, Taipei is a city where people can find themselves at ease within.
How The Chairs was formed
-How did the three members, Jing(詠靖), Zhong(仲穎), and Benson(班森), meet and get to form the band?
We have been together since high school when we joined the guitar club, we often practiced and hung out together during extracurricular hours. It was after the college entrance exam that we first tried to write and arrange a song together. From that period on, we had been to singing contests continually, and then finally, collected ten tracks and released our debut album Cheers!Land in 2016.
The meaning of the band's name
-What is the meaning of the band's name, "椅子樂團(The Chairs)"?
It has no meaning actually, however, the origin of it was that we needed a name for signing up for a singing contest, we brainstormed while we were rehearsing and thought, "Hey, we are using a IKEA chair as a percussion, how 'bout let's call ourselves The Chairs?"
The use of Japanese lyrics in their songs
-I was surprised that you used Japanese lyrics in "日常的鏡頭". I love this song in Japanese and Taiwanese lyrics splendidly sound harmonious with mellow sounds.
It was not in LP you would release on June 28, I guessed "洋子、洋子" in "LOVELY SUNDAY" sang about a Japanese girl called Yoko. Could you tell us why you use Japanese in your songs?
Zhong: I started thinking about the arrangement of "Through The Lens of Life" when only the lyrics of the chorus were done. When I heard the new arrangement, I came up with the idea of adding some Japanese lyrics with a bit of "old man vibe". Looking back, I think I made a nice decision without a doubt.
Jing: Yoko, Yoko's inspired by John Lennon's wife Yoko Ono, there's a song in The Beatles' White Album called Julia, where in the lyrics Lennon transferred Yoko into "ocean child", so I thought it'd be cool to use Yoko as a metaphor in the song about a ride by the seashore.
The recommended tracks from "Hey Aries"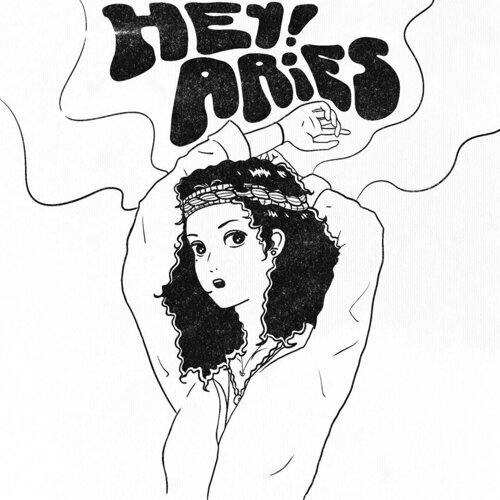 -Tracks in the LP "Hey Aries" would be easy for listeners who start to listen to your music. Which tracks do you recommend?
Thank you! Hey Aries is our newest release which is a poem in praise of love that's a bit reckless but firm. It's followed by ten of our 40 odd tracks that we'd really love to share with fans and new friends in JP. We've got cheery tunes like Rollin' On, Aphrodite and Every Day Is Sunday that pays homage to the 60's psychedelic rock scene, 日常的鏡頭、Paradise…How Far? and Lonestar, which are dreamy sounds great for chilling out in late night, and Shangrila Is Calling, a rock song of self questioning from our latest song-titled album.
The choice of languages in their lyrics
-Also, if your home language is Taiwanese, how do you choose other languages like English and Japanese in lyrics with using your first language?
Jing: Many of our inspirations are music written in English, so it's kind of an instinct for me sometimes just to mumble words in English or sounds like English when composing. The very first few songs I've written were all in English, despite how "English" they were. It was until we recorded our first album that we started writing songs in Mandarin Chinese. Anyway, it's a lot of fun to write anything we think of, and it'd be nice to share our music with people from communities that speak languages different from our mother tongue.
The songwriting process and the vocal parts
-I know all three of you are vocalists. I wonder how you decide which parts each member sings and how you make songs.
Jing: Zhong and I both write melodies and lyrics on our own, when the songs are put together, most of the time whoever writes the song sings the song, and the others do the backing vocal.
The reason behind the vinyl title "Hey Aries"
-Why did you decide to name the vinyl title "Hey Aries", which was out in May as a single?
It is our first record released in JP, we not only want local listeners to know what we've got but also what we're doing now. Hey Aries represents our newest musical taste and attempt, with Jing's 90's
-manga-inspired album cover illustration, we send our greetings to the Japanese audiences.
The Japanese bands they want to perform with
-If you have any Japanese bands to perform with, please let us know.
We'll be performing with mei ehara in Shibuya WWW on 7.11, GOFISH in Nagoya KDJAPON on 7.13, and Roman Kakumei in Kyoto UrBANGUILD on 7.14.
The target audience of their music
-Is there any particular listener or person aiming for?
We'd like to reach not only just mandorock or mandopop listeners but more music lovers worldwide!
The influential albums for their music
-Please tell us about three albums that have influenced your music. And tell us about the specific part that inspired you in each album
Jing: I'd Say Pink Floyd's The Dark Side of The Moon(1973) and Arctic Monkeys AM(2013) are great inspirations talking about shaping sounds during tracking. I also like their ways of storytelling. Another one would be ELO's Time(1981), many of its sound effects and arrangement still sound brilliant even today.
The plans and expectations for their Japan tour
-You will perform in Tokyo, Kyoto, and Nagoya.
Is there something you are looking forward to while you're staying in Japan?
Yes! Several plans have already been made for our free time. We'd really like to go visit music shops, great clothing brands, vintage shops, nice ramen and sushi restaurants…You name it!
-How was it decided that you would play at 『GFB'23(つくばロックフェス)』 (Tsukuba Rock festival in Ibaraki) ?
We first scheduled our 4 stop tour, huge thanks to our amazing partner Big Romantic Record and Terao san for making this happen. It's our first ever music festival in Japan. Excited!
-How do you feel about playing not only in big cities but also in a suburb?
Benson:I'm very excited to perform live in various cities. Music venues, campgrounds in the suburbs… they are all attractive. Wherever it is, I hope the audience will enjoy our live show!
A message to listeners in Japan
-Could you give a message to listeners in Japan?
We're really looking forward to playing our gigs in Japan! so see you both in the live show and on the streets!
Hey Aries release information
To celebrate the Japan tour, an edited LP with career-best content, including the single "Hey Aries," will also be released!
LP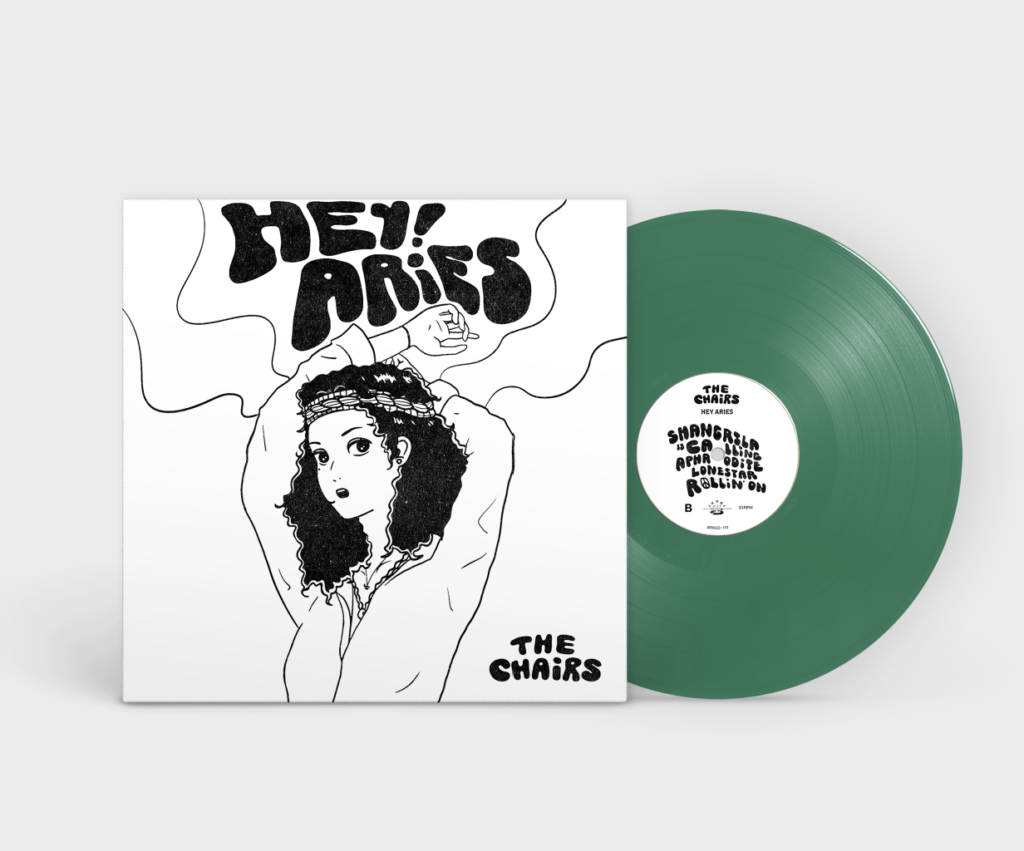 title:Hey Aries
release no:BRRCD110
price : 4000JPY (tax included)
Release date: Wednesday, June 28, 2023
tracklist :
Aside
A1 Hey Aries
A2 日常的鏡頭
A3 Paradise How Far
A4 Dreaming With You
A5 Everyday Is Sunday
Bside
B1 Shangri-La Is Calling
B2 Aphrodite
B3 Lonestar
B4 Rollin' on
*This is a first-run limited color edition (clear green).
*Record samples may differ from the actual product in color and other aspects. Please understand.
Single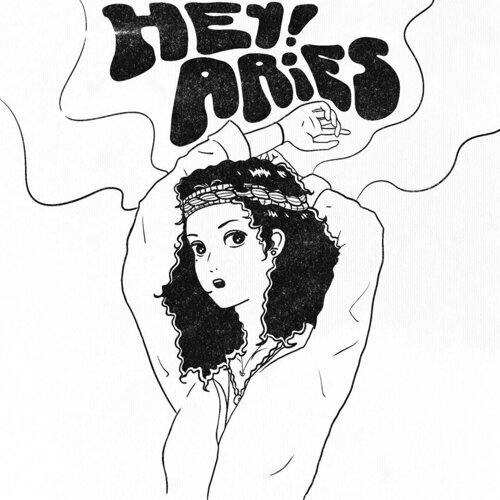 Release Date: May 05 2023
format: Mp3
Amazon
The Chairs Live Information

2023/7/11 (TUE)
Venue: Tokyo Shibuya WWW
Performers: The Chairs 椅子樂團 / mei ehara
2023/7/12 (WED)
Venue: Tokyo Tsukimiru Kimi Omou
Performers: The Chairs 椅子樂團 / Empty
2023/7/13 (THU)
Venue: Nagoya KDJAPON
Performers: The Chairs 椅子樂團 / GOFISH / Next Door GINGA Project
7/14 (FRI)
Venue: Kyoto UrBANGUILD
Performers: The Chairs 椅子樂團 / Romantic Revolution
Common for all dates:
Time: 18:30 open / 19:30 start
Price: adv. 4500yen / door. 5000yen (both excluding drink fee)
※Entrance in order of ticket number
Ticket URL: https://230711.peatix.com
The Chairs profile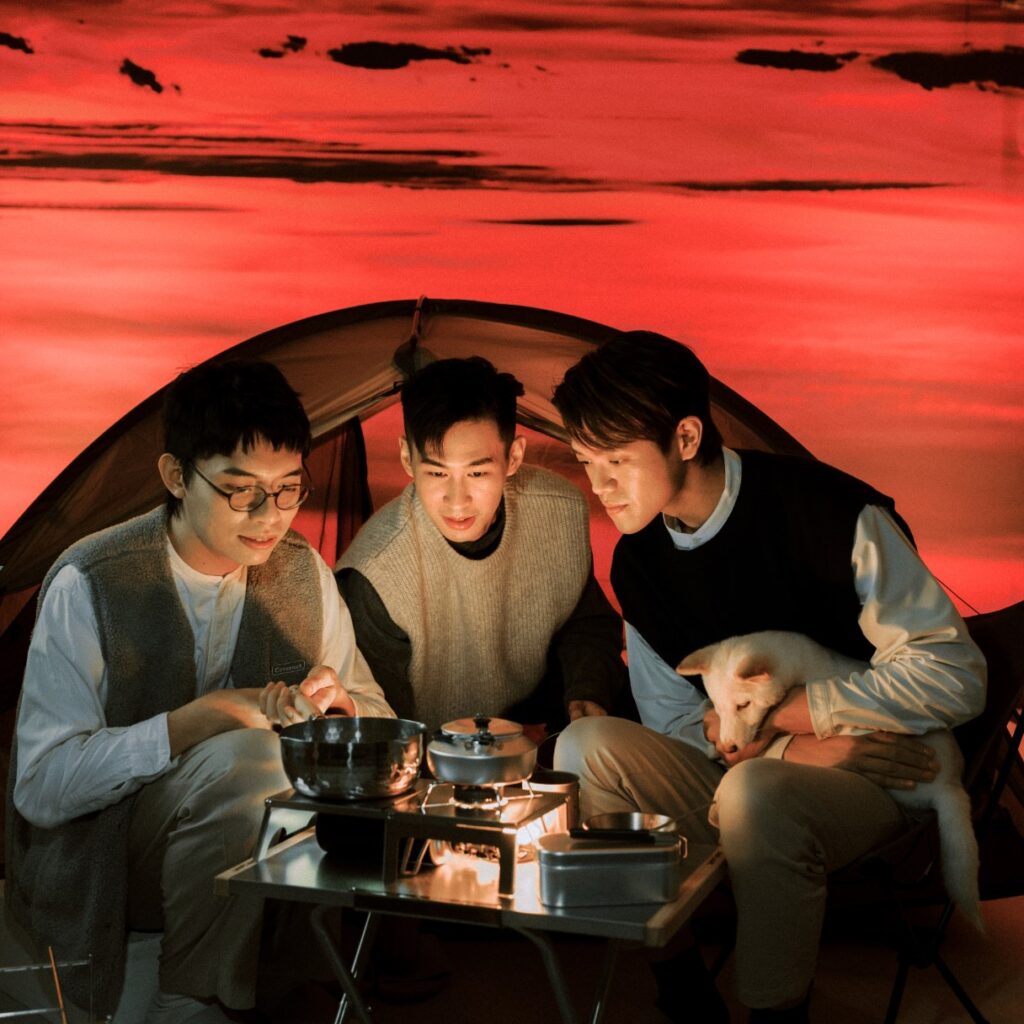 The Chairs is a three-piece two-vocal band consisting of Jing(詠靖), Zhong(仲穎), Benson(班森). After a brief hiatus in 2018, the band won a Golden Melody Award for Best Vocal Group for their album "Lovely Sunday". In 2022, the band released "The Call of Shangri-La" and embarked on an international tour. This year the band toured in the United States, Japan, Australia, Hong Kong, Singapore, and Malaysia. The Call of Shangri-La continues to call.
The Chairs Related Articles
[Advertisement]