Last Updated on 2023-02-19 by a-indie
DYGL's fourth album, " Thirst ", is a practice of being honest with one's voice.
The personal album, which was made by production staff who also knew each other, captures their natural and open appearance as a sound image.
However, the live performance that took place before the album's release was very different from the sound source, with the five-piece band pounding out a loud and painful sound.
We conducted an e-mail interview with Akiyama of DYGL, who are gaining momentum day by day, with a US tour coming up after their domestic tour.
Click here to read the article in Japanese.

Artist: Nobuki Akiyama (Vo./Gt.) Interviewer: yabori Translation: H.M Portrait: Kohei Yonaha Live photos: Erina Uemura
DYGL interview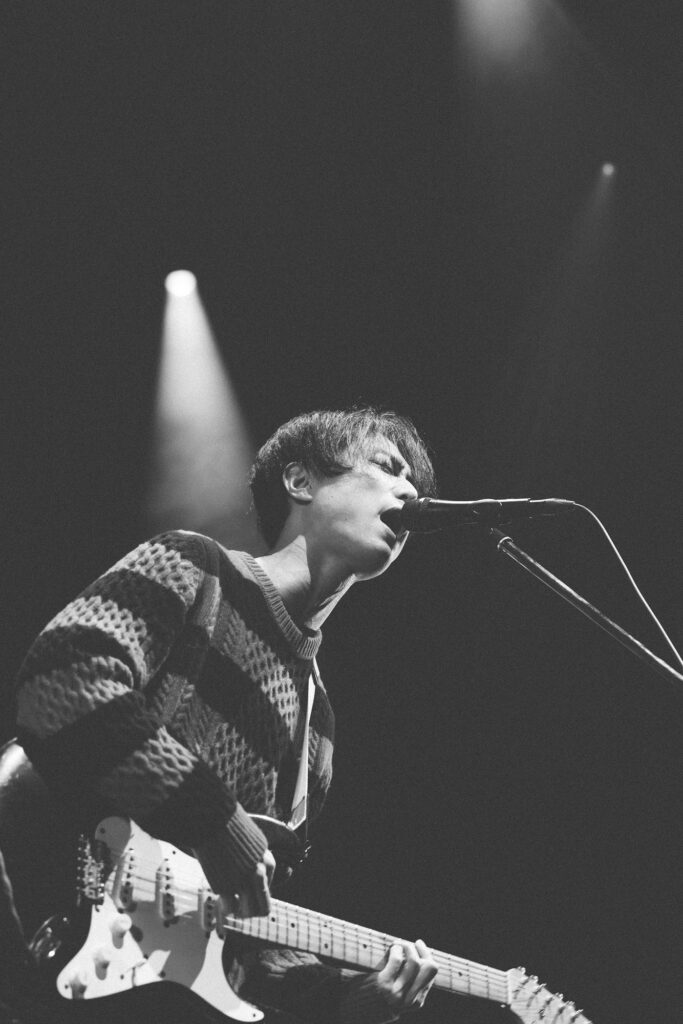 -Before asking about the latest album, I'd like to talk about the last one. There is a large musical difference between the 2nd album, "Songs of Innocence & Experience" and the 3rd one, "A Daze In A Haze", which I thought is aimed to express ordinary life. You came through the pandemic and returned to Japan. Are there any changes of mind or the way you approach the music?
Nobuki Akiyama:2020 has been challenging year for us apparently due to covid, but it somehow affects us in a good way too. We kinda get lost on what we do while and after doing 2nd album recordings & tour at that time, but the
covid situation gave us some time to consider what really makes us happy. So we decide to be more relaxed and have more fun making things. This 3rd album became something that allows ourselves to be more natural on what we want to try.
Thirst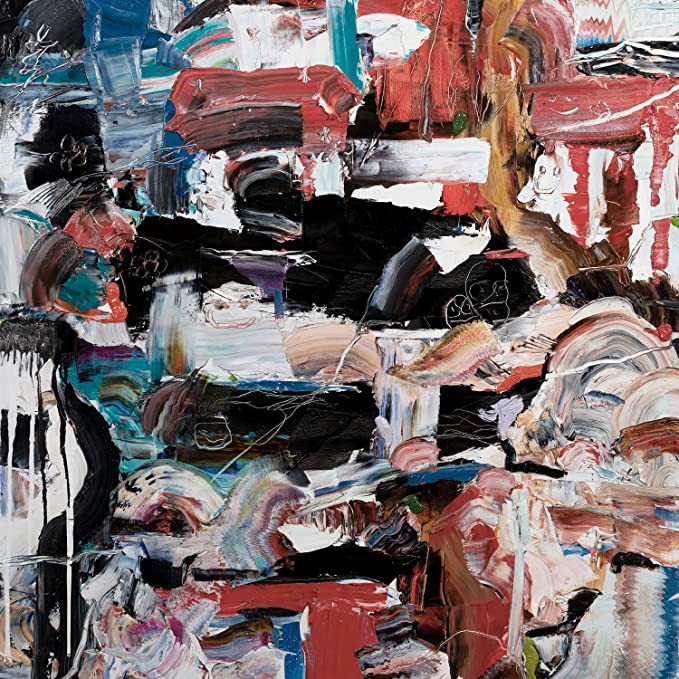 -Your 4th album, "Thirst" was recorded by yourself. Why did you decide to make it only with people you already have a relationship with?
We didn't dare to do so in the first place, but as we process album recording we feel this one's got a lot more personal feel compared to the previous ones. So we realized we feel more comfortable to work with someone we already know well. They are all amazingly talented indeed. We respect them as artists, and they are all so sweet as friends.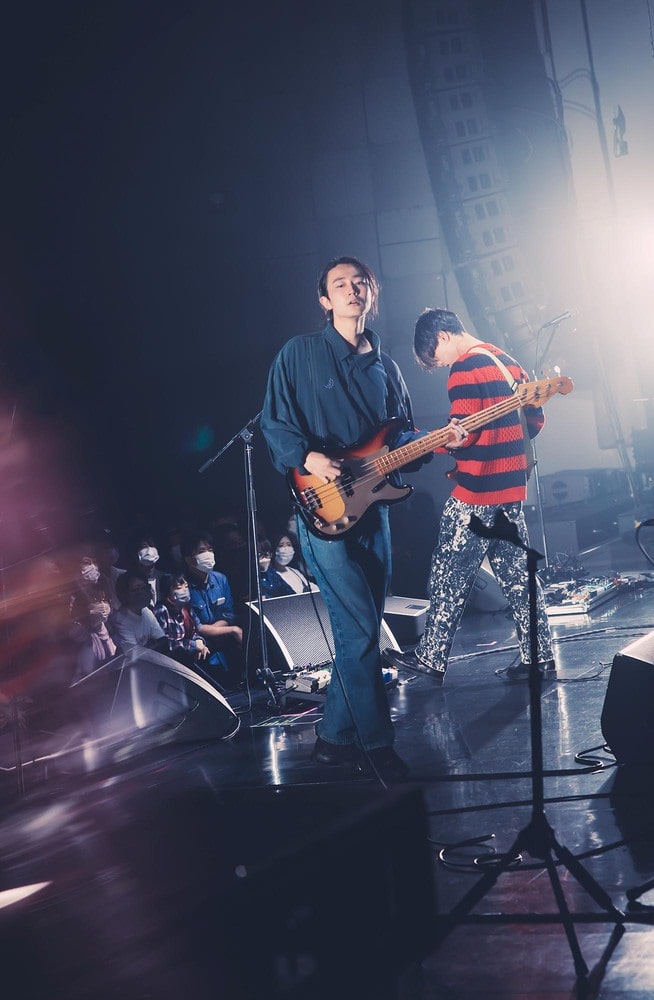 Under My Skin
-You said "Under My Skin" was the one of the height of DYGL. It reminded me of Arctic Monkeys' "Do I Wanna Know?" In "Under My Skin", you expressed a side of yourself as a wide music listener. What did you focus on when you made this song?
This song is one of my favorite of all DYGL songs. Yotaro let me listen to some demos he wrote just before we started the album recording project. And then this demo of Under My Skin sounds so amazing and I came up with many vocal ideas immediately. The most of the instrumental part is written by Yotaro then I've arranged it and add vocals. We had many fun in this collaboration process to write it.
-In the MV of "Under My Skin", I especially like the scene of red blood cells and horses. I think this is the first MV that contains this kind of image. How did you come to use it?
It's kind of a joke to use stock videos for the actual music video. I discussed the plan with the video director Kohei Yonah, who is one of my close friends based in Okinawa. We've been talking about working together from time to time so I'm really happy that it finally happened. We thought that just making "cool videos" isn't that fun so we tried to have some twist on it. It's kinda funny to see the collection of stock videos right after actual footages of us which is very carefully shoot in a professional way. Blood is the important element for this song though. It's the symbol of "circulation" of body, mind, and the world.
DYGL - Under My Skin (Official Video)

I Wish I Could Feel
-"I Wish I Could Feel" is the fist song that used vocal effects as DYGL. Why did you decide to use them? Are there any songs or artists that you referred to when you arranged the song?
Actually in terms of vocal effects, we've used slapback delays on many songs on early 2 albums. But there might not be so many obvious ones. We used auto-tune + distortion on the songs like 7624 and Half of Me from the 3rd album. So It's not totally new challenge to us, but more like we tried to push this idea forward. I think the artists like James Blake, Bon Iver and Frank Ocean gave us many inspirations for the idea.
DYGL - I Wish I Could Feel (Official Audio)

-I feel the latest album is the one whose relations between songs are very considered. What impressed me most is the connection between 1st track and 2nd track and that there was no feeling of wrongness when I listened to the 1st track right after the last one. Please tell us what you planned for the song order or connection between songs.
We tried to be careful on the song order, but we hadn't thought about it until we got the whole songs recorded & mixed. We are also impressed to listen through the album from the start to the end in order that we've decided, for it actually sounds so smooth more than expected. It was kinda happy surprise.
lyrics
-I like the story about "Sandalwood" in the liner notes, which is that its lyrics were too direct when translated into Japanese. Is there anything that you can say in English but is too straightforward in Japanese? And tell us the reason you sing in English.
I think so! Sometimes it's a lot easier to say things in English. Each language has a different character and it's like a different material of colours. So I love both, but at least for DYGL that's one of the reasons that I chose English. I like the sound and the rhythms of English. It sounds fast and hard. Japanese sounds more soft and blurry instead. Both are good, it's just different.
-In this album, there are two words that appear often, "confuse" and "silence". And there is often a confused person who is on the edge needs a rest in the songs. Is he about yourself or is there any person you picked as the motif?
I didn't realize the numbers until you mentioned here. It's always fun to realize new things about our own music by talking with people. And as the answer to the question, it's definitely one of the aspects of myself for sure, but it's kinda boring to limit the interpretation of the songs just by relating it to the author of the song. I write things from my perspective, but I strongly believe anything can have different meaning when it actually comes out in public. So this could be a song about me, and a song about you, a song about anyone who can relate themselves to the song.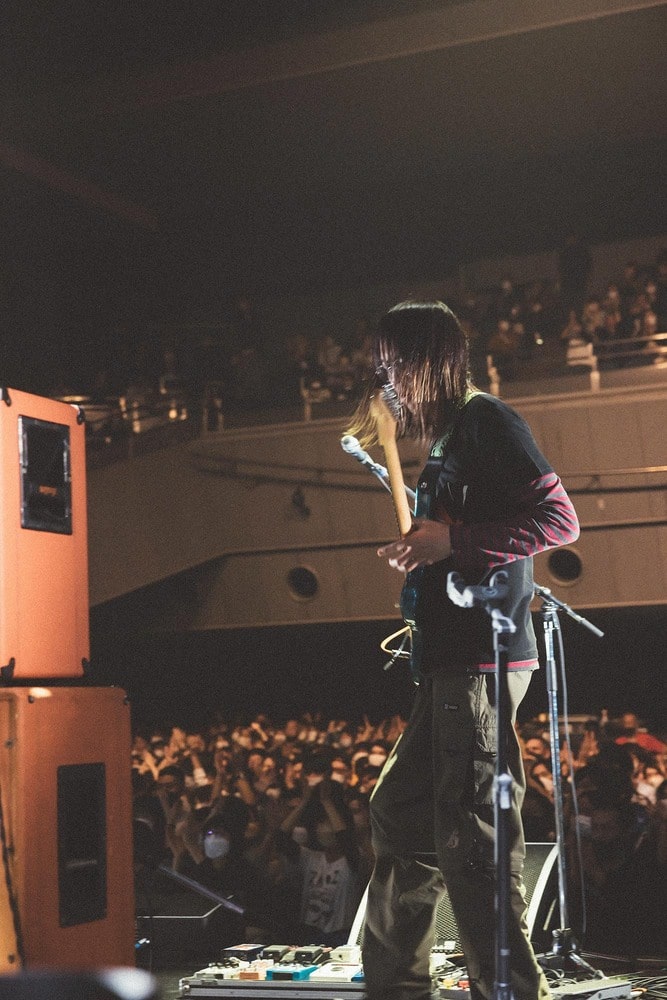 Album Theme
-I think the theme of the latest album is to be honest with one's inner voice. There are many people who can't try what they want to do but blame their environment. Why did you choose this as the theme?
I think the environment can be enough reason to limit people. I don't think it's wrong to find out the problems of the place or the society that you actually belong to. Like it's kinda obvious in data that politics can affect people's lives, and also their mental health too. So I totally understand the people who need to give up things because of the environment around them. Especially when they're young. I think it's ok to quit. I think it's ok to take a break. But I hope they could find ways to do what they really want to do. I was just lucky to have a good environment and people around me, and I think it's been necessary all the time. I don't simply believe in a strong will. Success story is a combination of many facts. So I don't find the straight connection between "being honest in heart" and "people who need to give up because of the environment" in your question. I even think that to be honest in heart, we need good environment. The society could be poorer in the next few decades. So we need to be more aware of the necessity to support each other to have good environment that people could feel safe & free for what they do. Especially for young people.
Album cover
-The cover artwork of the album is soft colored abstract painting. How did it come?
I had an idea to have album artwork filled with colors all over the screen. The last 3 albums have similar concepts to place one main motif in front of the background so I wanted to make this new album something different. We've been researching the artists and creators from pretty much every eras / countries but finally I found the very painting which feels the connection with our songs for the new album. This oil painting is drawn by my friend Tamao Shirai who I've known since we were bouh in the same elementary school. Originally she drew this painting for some client but both she and her client said they're happy to allow us to use this for our album cover so it became possible thanks to them.
-"Thirst" is translated "to desire for something" in Japanese. What is the meaning of this album title?
It's the word which sounds negative and positive at the same time for me. "Thirst" is the definition of lacking. But it's also the energy of wanting to live.
-What kind of people do you aim this album for?
Literally everyone! Especially who loves & respects music and culture.
Live organisation of DYGL
-In your live concert, Kento Suzuki from Never Young Beach played drums and Kamoto was on guitar. Why did you choose to have 3 guitarists in your concert? And will you perform with that formation through the tour in the US?
Because Kohei wanted to quit drums haha More than that, he's one of the best guitarists that we've ever known. And we've changed our music style a lot since we started to go in the direction where we have more layers on our music from around the 3rd album recordings. So we think it's necessary to have at least 5 musicians on the stage when we play live. It's not confirmed yet but I think that'd be lovely if all of us 5 could go on the world tour including Kento. He's very sweet as friends, and as drummer his performance is brilliant too.
DYGL - Under My Skin (Live)

Roots of DYGL
-Please tell us the 3 albums that inspired DYGL with the explanation of what part influenced your music.
It's very hard to define 3 as the band cuz each of us had varied influences from many different albums. So I just listed 3 albums that could possibly affect us while we make Thirst.
Alex G - God Save the Animals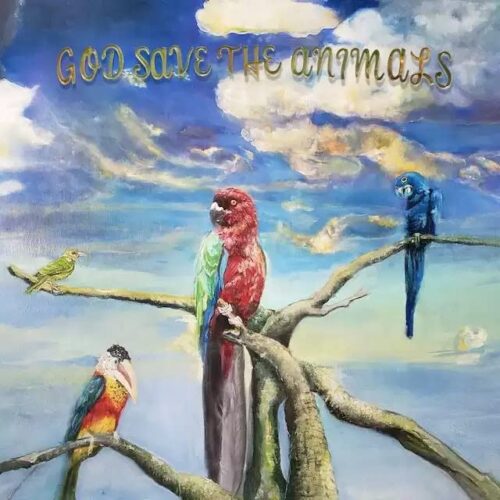 Out of countless albums that's released in 2022, this is our most favorite album of the year. The sound production is very sophisticated, but it's never basic. The mood of this album definitely help us get some ideas for our song writing for our music.
Turnstile - Glow On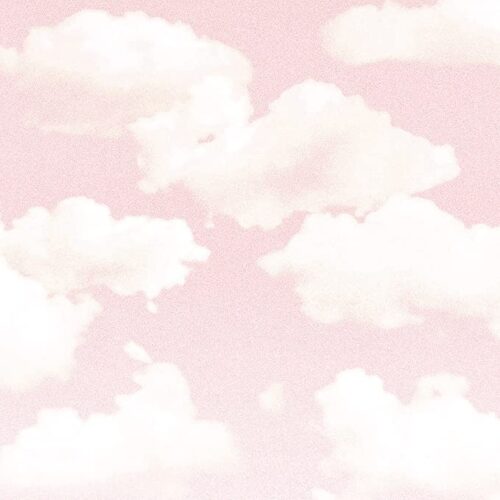 The real ace for modern rock music. Love the energy. It reminds me of the power of guitar rock. Also this album contains many ideas in a very deliberate way. Energy + ideas. Great balance. We've talked about this album between us so many times. Amazing album.
Joji - Ballads 1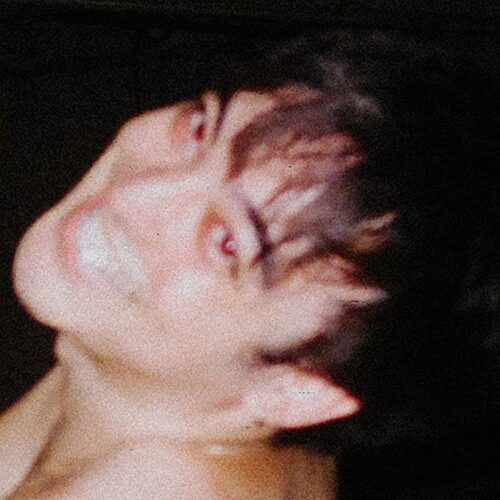 One of my favorite. I love the hybrid atmosphere of the combination of many different kinds of music. Rock, R&B, Hiphop, and slightly emo. And it's all unbelievably natural. This gave me the idea how I want to combine what I like in my own writing to show a new feel as an output. This is one of the very important elements which makes up what I wanna try to express.
-I heard Thirst tour will not be played only in Japan but in the US. Your live tour in the US has been long time. Please give a message for the fans in the US.
We've been longing for the US tour for so long. We had a very good time the last time we visited. We're very excited to play new songs from our album for you all. See you in your cities.
DYGL released Works
DYGL has released 4albums("Say Goodbye to Memory Den"、"Songs of Innocence & Experience"、"A Daze In A Haze"、"Thirst").
4th album"Thirst"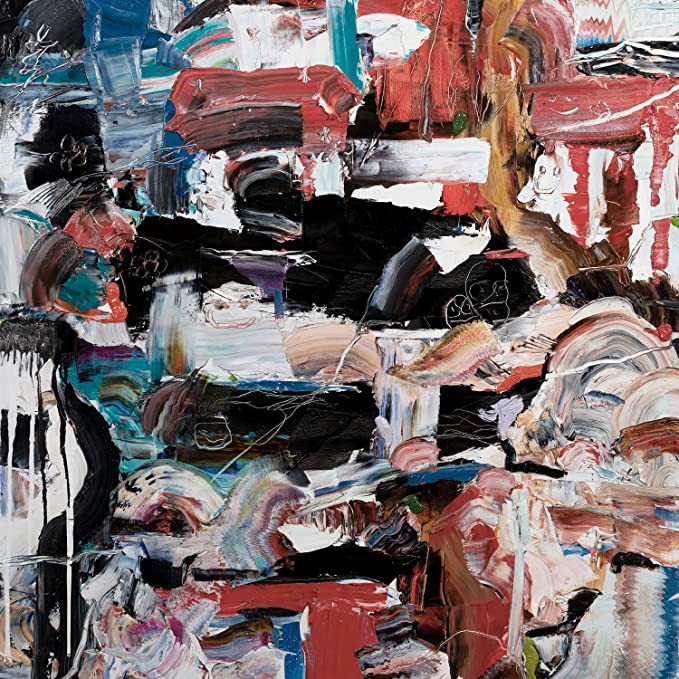 Release Date:2022.12.9
Tracks:
1.Your Life
2.Under My Skin
3.I Wish I Could Feel
4.Road
5.Sandalwood
6.Loaded Gun
7.Salvation
8.Dazzling
9.Euphoria
10.The Philosophy of the Earth
11.Phosphorescent / Never Wait
format: CD
Amazon
3rd album"A Daze In A Haze"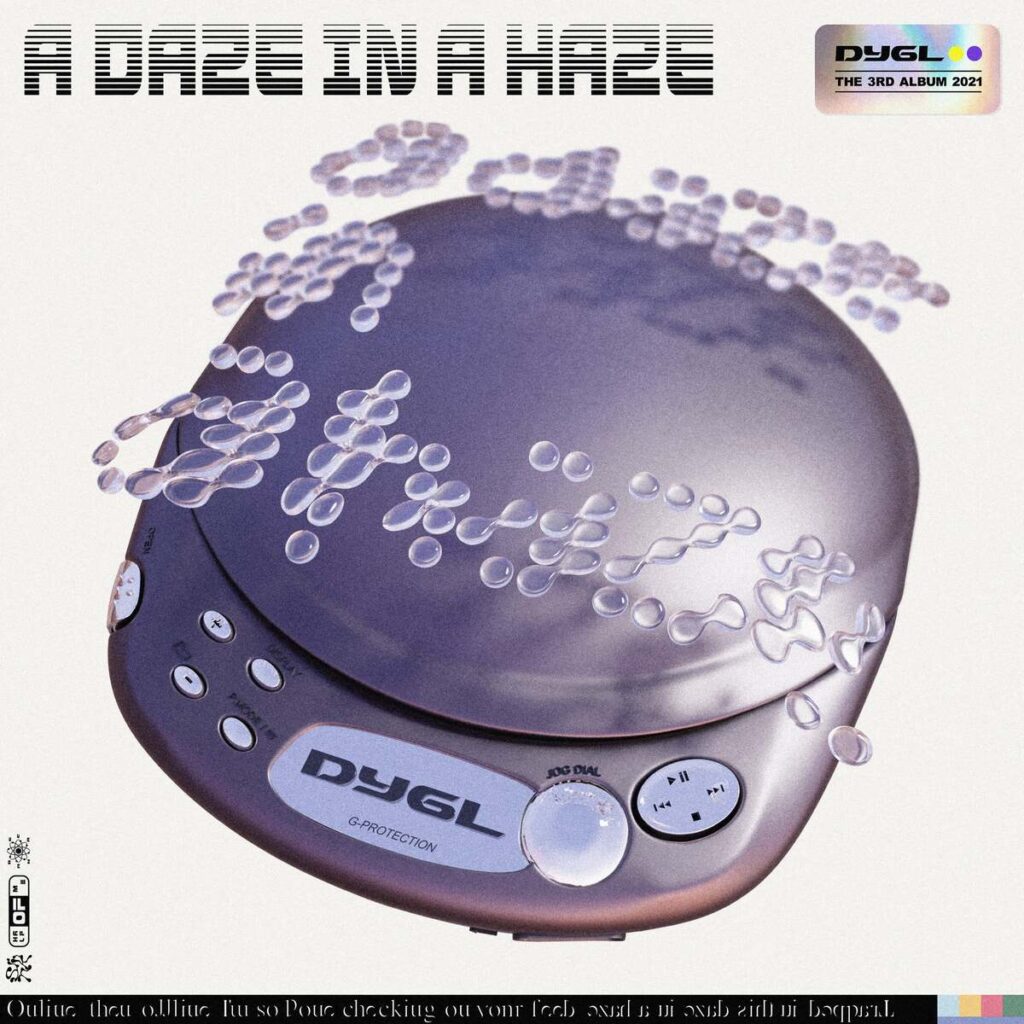 Release Date:2021.7.7
format: Analog record
Amazon
2nd album"Songs of Innocence & Experience"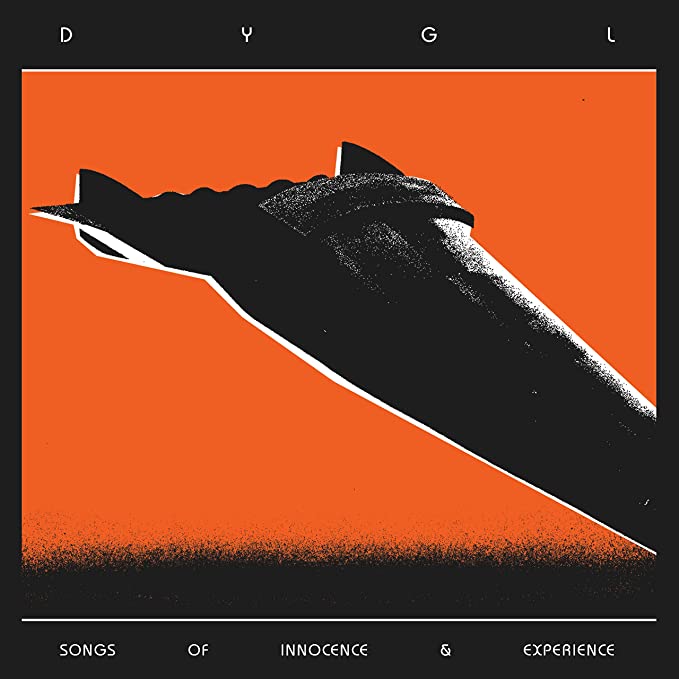 Release Date:2019.7.3
format: Analog record
Amazon
1st album"Say Goodbye to Memory Den"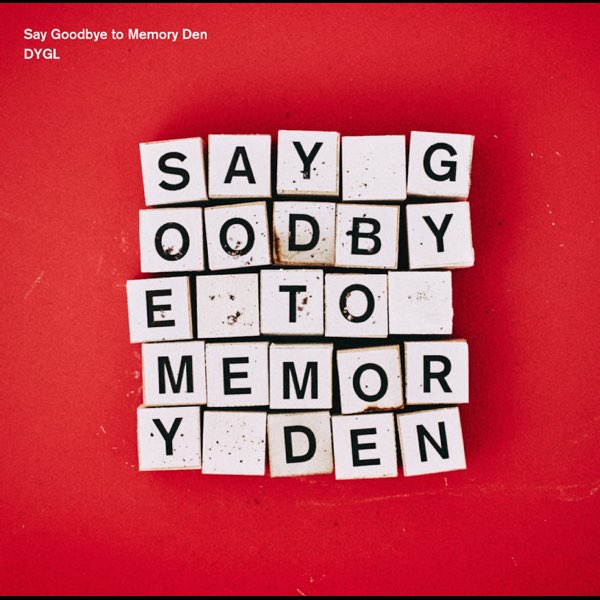 Release Date:2017.4.19
format: Mp3
Amazon
DYGL band profile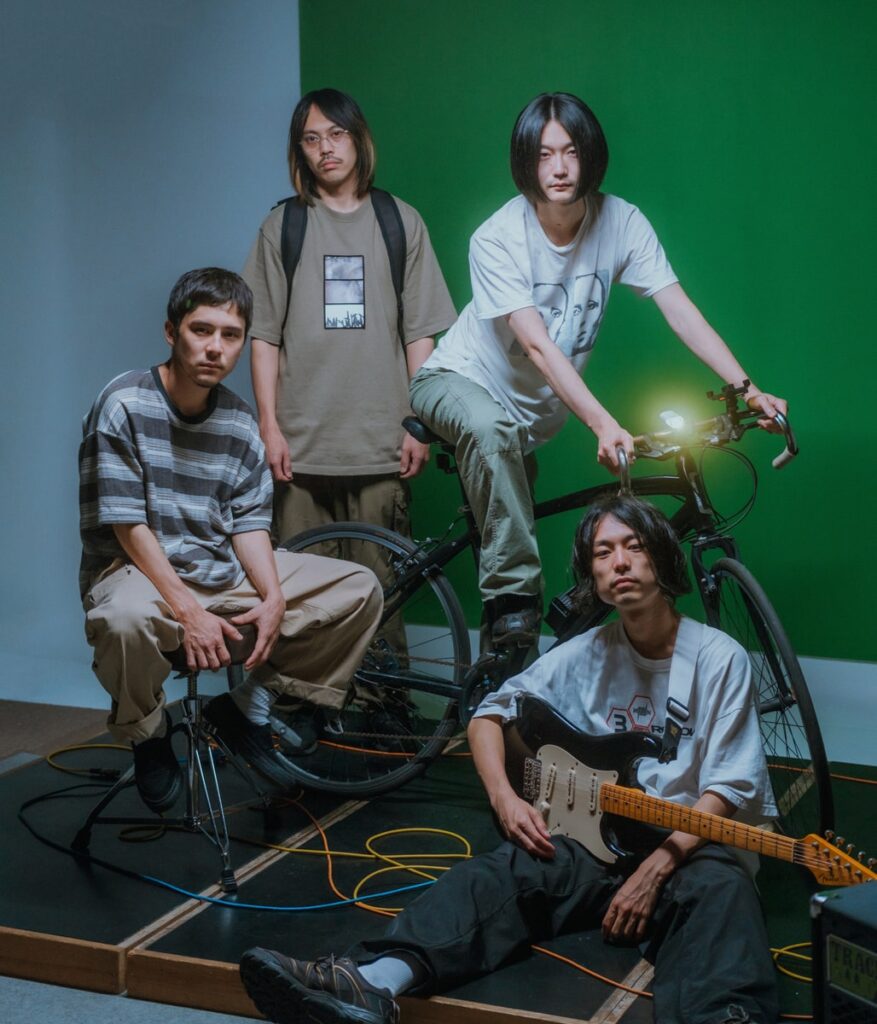 "2019 has seen DYGL begin the year at SXSW, land offers from major festivals across Asia including Fuji Rock, tour Europe with The Mystery lights and Bad Suns, and the US with SWMRS, and Girlpool.

They also released a new album titled Songs Of Innocence & Experience, produced by Rory Attwell (Test Icicles, The Vaccines, Palma Violets). Regarding the choice of the title frontman Nobuki Akiyama says, "The album title is quoted by the title of the poetry book by William Blake 'Songs of Innocence and of Experience' because I felt some connection between his work and my lyrics. "The songs on this album are a personal questioning and contradiction in this life or world, rather than presenting a specific answer. Maybe it's about coming of age; maybe it's more than that. It's quite related to personal feelings."

DYGL pull from varying facets across the indie landscape to deliver this message. They offer up an indie swagger reminiscent of the likes of The Libertines and The Cribs with lead single 'A Paper Dream' and 'Bad Kicks'. Meanwhile there's a touch of Beach Boys surf paired with the nonchalant shoegaze of DIIV in 'Spit It Out'. A gritty low-fi attitude similar to the likes of Iceage or Shame channels through the likes of 'Ordinary Love'. There are also beautifully delicate moments peppered throughout Songs Of Innocence & Experience, with the likes of album opener 'Hard To Love', 'Only You (An Empty Room)', 'Nashville' and 'Behind The Sun', which closes the album. Speaking about 'Behind The Sun' and its influence on the album artwork Nobuki says, "There's a lyric in 'Behind The Sun', "If I could swim across the stars to fly to what awaits me behind the sun".

In my vision I have an image like floating in outer space alone with no sound around, so we asked the designer (Jordanne Chant) to make the artwork related to that. It's the airship flying in front of the sun, a bit emotionlessly, but still a bit sadly secret. "In this album I think I felt both sides of life, pure innocence and some kind of broken unreasonable experience.

It could be quite depressing and sad, but at the same time there's some cheerful, fun melodies, some passions and anger, and some comforting silence. I think it's all connected and has a meaning to each other, like our lives itself. It's not like looking for the answer; it's more like singing some contradiction and questions as it is like some abstract drawings. But I hope it could be still giving people who listen to it some energy and passions for music, and for their lives." Songs Of Innocence & Experience is the follow up DYGL's highly acclaimed debut album Say Goodbye To Memory Den in 2017. The record was produced by Albert Hammond Jr and was quick to make DYGL the hottest indie names in Tokyo, while also sparking UK praise from the likes of NME, Clash and more. The new album finds DYGL venturing much deeper into themselves both musically and lyrically than found on their first record, showing a vastly greater depth to their songwriting prowess. Songs Of Innocence & Experience further cements DYGL as Tokyo's hottest indie exports."
DYGL Rating
"Spit It Out: Released 31st May 2019 this exceptional tune was fuzzy indie rock which put me in an utter trance. Those infectious lyrics actually addressed the idea of battling societal norms whilst those vibrant vocals oozed punkish vibes reminiscent to The Sex Pistols"
DYGL representative song(Youtube)
DYGL - Sink

DYGL - Bad Kicks (Official Video)

DYGL - Let It Sway (Official Video)
DYGL Live Information
JAPAN TOUR 2023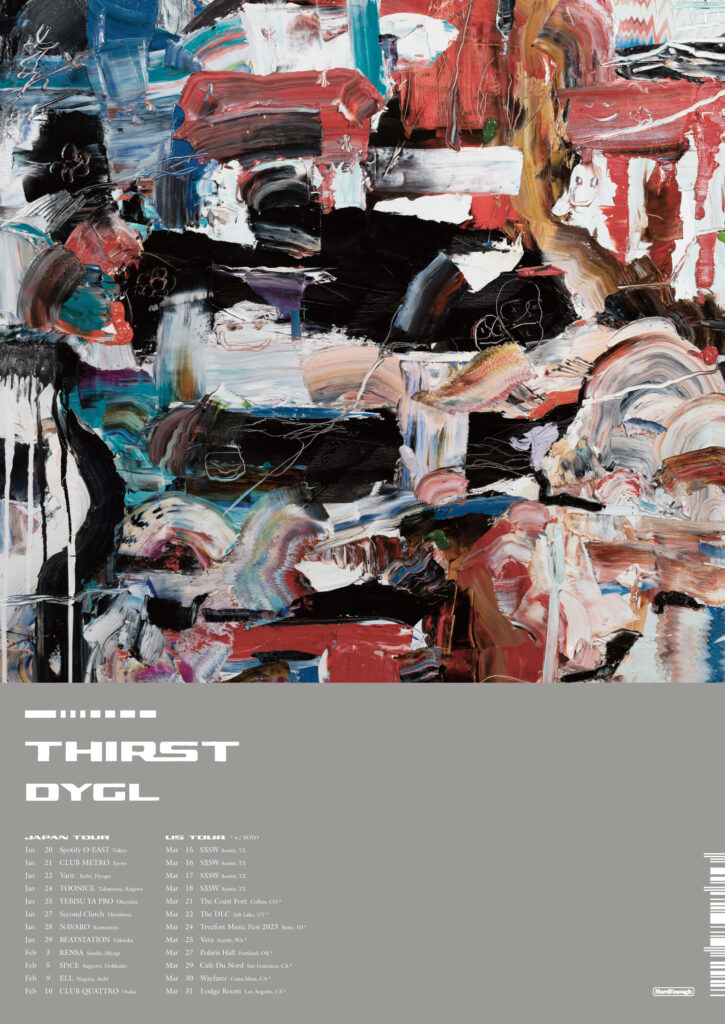 Jan 20 Spotify O-EAST Tokyo
Jan 21 CLUB METRO Kyoto
Jan 22 Varit. Kobe, Hyogo
Jan 24 TOONICE Takamatsu, Kagawa
Jan 25 YEBISU YA PRO Okayama
Jan 27 Second Clutch Hiroshima
Jan 28 NAVARO Kumamoto
Jan 29 BEATSTATION Fukuoka
Feb 3 RENSA Sendai, Miyagi
Feb 5 SPICE Sapporo, Hokkaido
Feb 9 ELL Nagoya, Aichi
Feb 10 CLUB QUATTRO Osaka
Ticket
SXSW 2023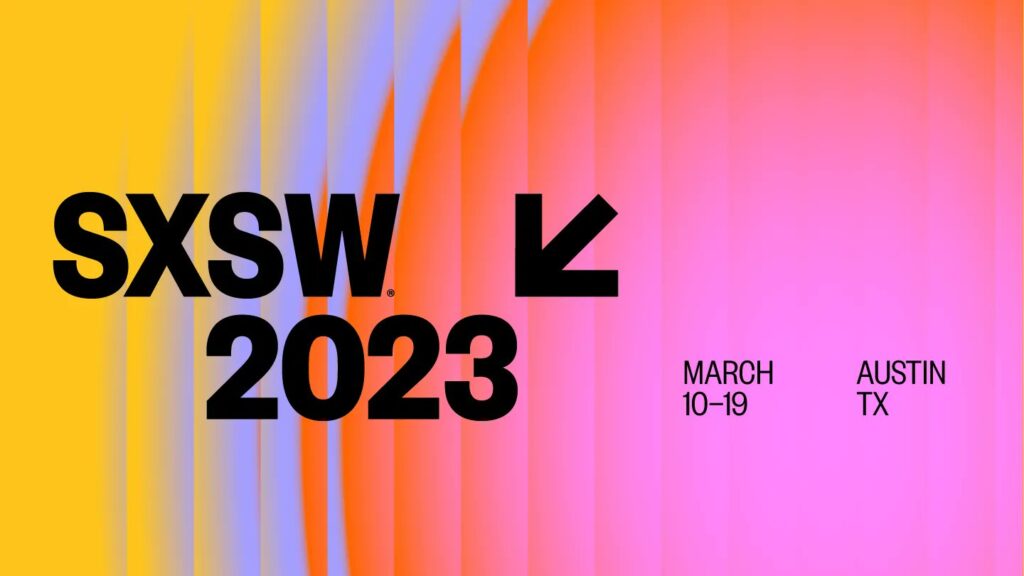 Mar 15 SXSW Austin, TX
Mar 16 SXSW Austin, TX
Mar 17 SXSW Austin, TX
Mar 18 SXSW Austin, TX
Ticket
US Tour 2023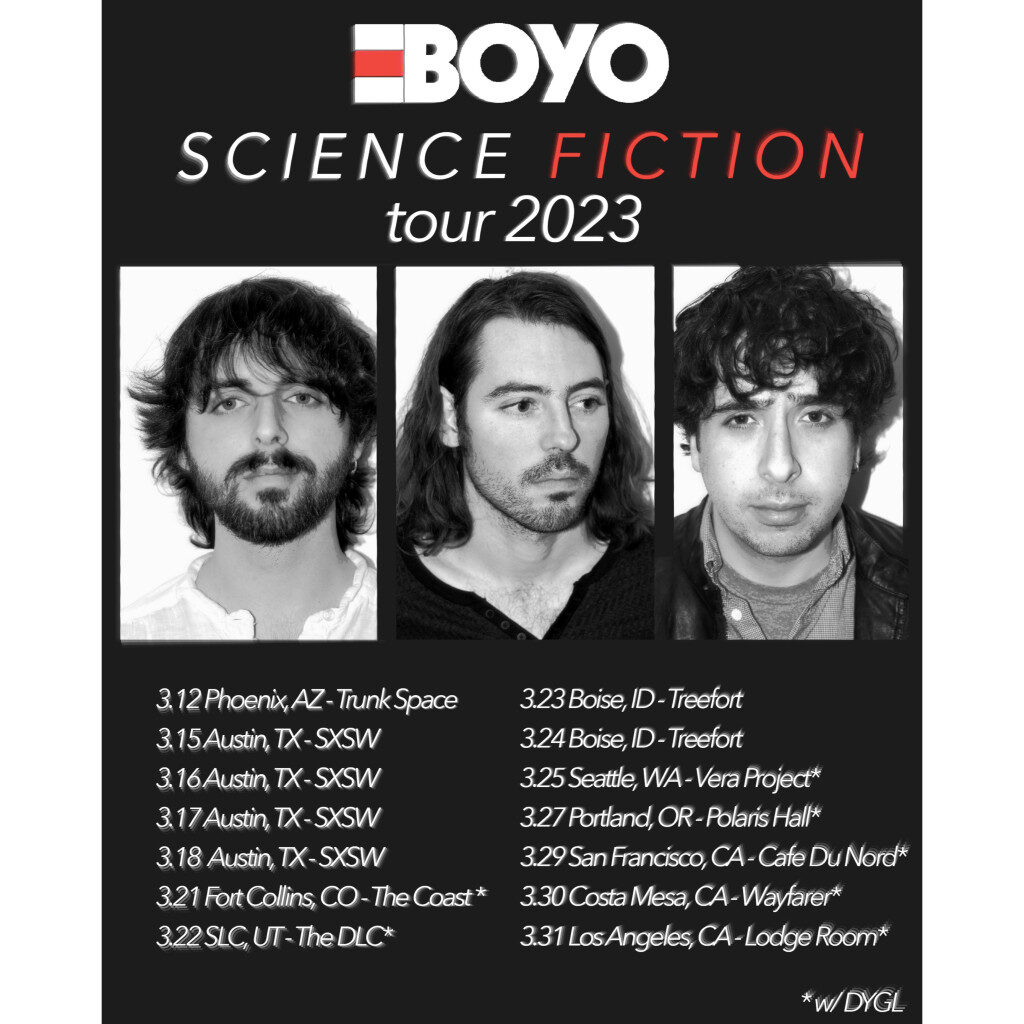 US TOUR *w/BOYO
Mar 21 The Coast Fort Collins, CO *
Mar 22 The DLC Salt Lake, UT *
Mar 24 Treefort Music Fest 2023 Boise, ID*
Mar 25 Vera Seattle, WA *
Mar 27 Polaris Hall Portland, OR *
Mar 29 Cafe Du Nord San Francisco, CA *
Mar 30 Wayfarer Costa Mesa, CA *
Mar 31 Lodge Room Los Angeles, CA *
Ticket
DYGL Related Articles
Related articles on DYGLhave been discussed so far in BELONG. All articles are written in Japanese.
DYGL interview
DYGL talks about his latest work, which focuses on analogue recordings, while they are in the USA and brings you the current situation with photos from there!

DYGL interview
DYGL talks about why they are based abroad.

Songs of Innocence & Experience review
Why garage rock band DYGL is reviving the magic of rock.

"Waves" lyrics Japanese translation
What is the attraction of English lyrics in DYGL 'Waves'?

"A Daze In A Haze" release article
Next generation of garage rock bands
[Advertisement]

yabori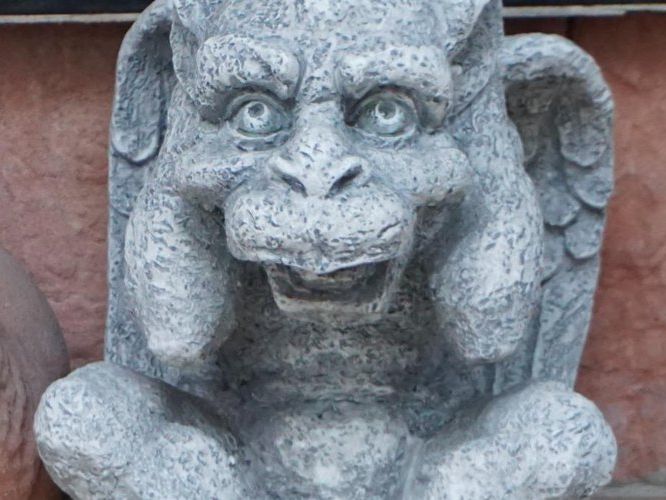 I am the editor-in-chief of BELONG Media and A-indie, and I have been writing the music blog Timeless Masterpieces, its predecessor, since 2010.
After writing for "only in dreams" hosted by Masafumi Goto, vocalist of ASIAN KUNG-FU GENERATION, I studied music business at a music school.
I have been writing articles on Japanese and international music for more than 10 years.
In the past, I was in charge of garage rock, psychedelic rock, and Japanese indie rock at a music CD rental store with over 100,000 album titles.
With these experiences, I have published 26 issues of "BELONG Magazine," a music magazine with the theme of "Roots Rock.
Currently, I write articles based on SEO strategies I learned at a web production company. I enjoy watching "Kaiun! Nandemo Kanteidan".
Click here to see the articles I wrote so far.
Twitter: @boriboriyabori